MECHANICAL SERVICES & UPGRADES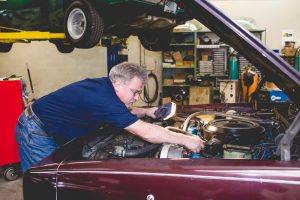 MECHANICAL SERVICES:
Our expert technicians are familiar with many makes and models.  Bring us your barn finds, stored collector cars, or pre-sale vehicles to get a thorough assessment. We will tell you what needs to be performed on the vehicle and work with you to get it ready for Sunday drives, cruise nights, Concourse events, and even the auction block.  Drop it off in the fall and have your car ready to drive in the spring.
We can help with everything from a simple tune-up, to a major overhaul. Take advantage of our expert knowledge in:
    A wide variety of engines

    Brake Systems

    Steering Systems

    Suspensions

    Transmissions and drive lines

    Exhaust Systems

    Electrical Systems
Fire Truck Brakes – Before
Fire Truck Brakes – After
MECHANICAL UPGRADES:
Does your car have an older engine that needs the practiced head, hands, and ears of an experienced mechanic?  Are you looking to replace your drum brakes with disc brakes or make another kind of mechanical upgrade?  Let Enfield Auto Restoration be your guide to help you diagnose the problems in your engine, transmission, exhaust or chassis. Our expert auto technicians can offer a wide range of mechanical services.
Pre 1950 cars came with cloth jacketed wiring. This tends to be frayed, split, or missing entirely from dry rot. This can cause poor operation of electrical components, or even worse a potential fire hazard. To avoid losing a prized possession, our technicians can replace your faulty wiring with an up to date plastic coated wire, with a cloth jacket. This will give it that authentic look with the benefit of modern safety.
Our expert auto technicians can offer a wide range of mechanical services including:
Complete engine, transmission, front end, and rear end rebuilds
Partial or complete re-wiring of any car vehicle
Brake work
Tune-ups
Clutch replacement
Full mechanical restoration
Install turn & hazard signal lights
Add seatbelts and other modern safety equipment
Call us to discuss how we can help with your mechanical issues or mechanical upgrade projects.  Or stop by, visitors are always welcome.
We can be reached at 860.749.7917 Monday-Friday 6:30 a.m. -5:00 p.m.
Click on one of the images above to open larger image gallery